East Point Business Announcements
Next Monthly Business Meeting:
This Week!
Thursday, April 4th at 8:30am
Held at Kupcakerie, 2781 Main Street
NOTICE:
MAY 2ND DATE CANCELLED
(It is the same day as the Tri-Cities Small Business Fair at the GICC - we hope to see you there instead!)
Register now here:   https://tricitiessmallbusinessfair2019.eventbrite.com
April 23rd, 5:30pm-7:00pm: Tri-Cities Networking Event. Located at Cinema Greens, 1557 St. Joseph Ave. Free to attend with business card. Great networking event. Light refreshments provided. 
April 23rd, 7:00pm-8:30pm: Filming 101 Session. Located at Cinema Greens, 1557 St. Joseph Ave. Free to attend. Great networking event for industry professionals and individuals looking to learn more about filming opportunities.
New Items Posted By Schools Weekly!
Make a Wish Come True for a Local Public School! The "East Point Holiday Wish List for Schools" allows businesses and organizations to scroll thru a list of needs prepared by the schools and simply sign-up for a request that they would like to fulfill on behalf of their organization, as an individual or both! All of the schools are located in East Point and/or serve East Point students. Direct contact information for each wish list item from the various schools is listed next to the request so that coordination for drop-off of the items, and/or clarification of specifics relating to the request, can be handled quickly and efficiently.
Visit https://www.signupgenius.com/go/20F0A44ACA928A02-east1 to fulfill a wish! 
Know anyone interested in investing/developing in East Point?
Then send them information about this event on April 18th, 2019!
The event is organized by the City of East Point Department of Economic Development. The forum is focused on educating attendees about:
-Current Catalyst Projects that are Growing the City, both Public and Private Current Incentives -Available in the City, both Federal, State and Local
-Current Real Estate Development Opportunities in the City
Attendees will have an opportunity to network with other industry contacts and hear from the City regarding their vision for growth, as well as, hearing from a panel of individuals who have down real estate development in the City.
Come discover opportunities in East Point – just seven miles from Downtown Atlanta, located almost entirely "Inside the Perimeter (ITP)" and next to the busiest Airport in the world! 
Tickets are only $10 (Includes Food), **Very limited seating available - Register today!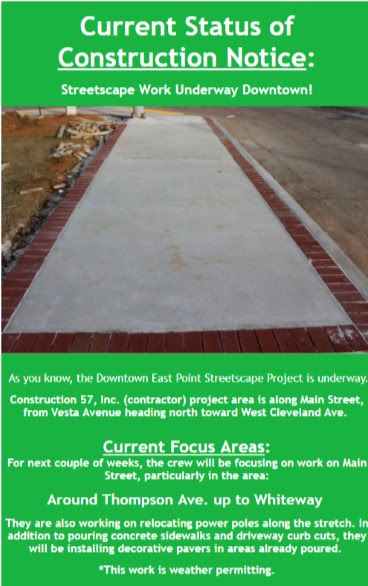 Opportunity for qualifying agencies to
Receive FREE Assistance
from individials needing to
serve their community service hours. 
In an effort to connect community members to opportunities to volunteer here in the City, the Mayor has created a brief "VIP" - Volunteering In the Point survey to gather information about you and your interests.  Please take a moment to complete the brief survey by going to the following link or call the Mayor's office at 404-270-7091 to complete the survey over the phone:  https://www.surveymonkey.com/r/XV593HY . Thank you for becoming a part of "VIP" - Volunteering In the Point!  Please feel free to share the survey and encourage others to become a part of VIP too. Check out opportunities to volunteer here: http://www.eastpointcity.org/volunteering-in-the-point/ 
Several Ways To Receive
Emergency Alerts
in the City of East Point:
Please check regularly, or "like", the City's Facebook page: 
 https://www.facebook.com/cityofeastpoint/
and
Register for Code Red Alerts (register all cell phones and land lines):
http://www.eastpointcity.org/codered/
Additionally available:
Twitter: @cityofeastpoint
Instagram: @cityofeastpoint
Download the "Access East Point" app on your phone (available on any app store)
East Point Community Resource Guide:
Register Your Outreach Organization